Troy High's Got Inclusivity
Troy High's Got Talent has replaced Mr. Troy High, receiving mixed reviews.
On Feb. 8, 2022, people packed into the Troy High School auditorium. Colorful lights and energizing music set the stage for what had become known as "Mr. Troy High", the school's annual satirical male pageant. Contestants would perform a talent, whether legitimate or sarcastic, give the crowd their best pickup line and dance in three rounds of competition. The crowd roared the names of their favorites as a panel of judges, composed of Troy High School staff, made their decision. The event brought in an immense amount of money for the school's "Activist Week", which all went to support the Oxford community after the tragic shooting that occurred earlier in the school year. 
Then, 2023. Troy High School's Student Government announces that they've made a change. "Mr. Troy High" will now be known as "Troy High's Got Talent" and will open up nominations to anyone, regardless of gender. The excitement surrounding the event dwindles. Less people sign up. Less people plan to attend. The commotion has died down. Less participation means less money is raised for charity, which goes to less fortunate families in the local community this year.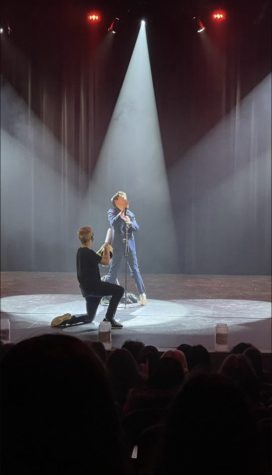 The reason for the swap was to be more gender-inclusive. Senior Brooklyn Crockett, Student Government President, spoke on the new rules. "The process of auditioning is very different. Now, you can audition with a group or you can audition alone. It's more inclusive. Before it just was guys and now it's anyone." 
This year, significantly fewer contestants are participating. Fewer contestants mean a smaller audience. A smaller audience means less money for charity. The trade-off for this lack of involvement is that people of any identity are able to sign up. In the end, the question becomes, which is more important: charity or inclusivity? 
A survey of Troy High School students found that there is a tie, a 50/50 split, on whether people approve of the switch or not. Sophomore Josie Lido spoke for those who don't approve, "I feel that they did it for a good reason, but also I feel like the hype for it went way down by doing it and the point of it was for people to be excited about it so they would go see it." 
On the other hand, sophomore Conrad Kohl, a participant in both "Mr. Troy High" and "Troy High's Got Talent," is looking on the bright side. "I know there will be people that are very talented doing it now because it's more gender-inclusive, meaning there will be more talents and people who will be better at it. It just makes it a little more interesting." 
"Troy High's Got Talent" takes place on Thursday, Feb. 9 at 7:00 pm at Troy High School's auditorium.