The Good, the Bad and the Ugly
A run-down of the best and worst looks at The Grammy Awards.
There is a lot of discussion and controversy surrounding the outfits worn to the 2023 The Grammy Awards Ceremony on Sunday, Feb. 5. Some celebrities blew us all away with their outfits, while others disappointed us. Let's dive into the good, the bad and the ugly of the 2023 designs. 
BEST DRESSED 2023:
#5: TEMS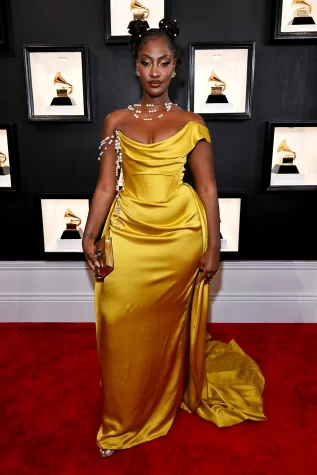 Starting with the best dressed at the event, in fifth place is Nigerian singer, Tems. She wore a gorgeous yellow gown designed by Vivienne Westwood. Although the color was not the best part of the outfit, it was attention getting and very flattering for her. The best part of her outfit was the beaded necklace and strap. This pulled the whole piece together, tying the beads in her hair to the beads on the dress. The fit of her gown was perfect and was overall a very classy, formal dress that was extremely fitting for the event. 
#4: MUNI LONG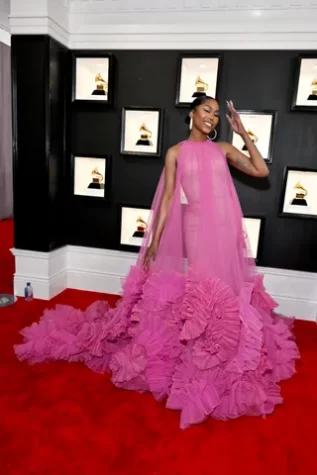 In fourth place: American singer/songwriter, Muni Long. She was wearing Tony Ward Couture. Once again going with an attention getting color, Long wore a gorgeous, pink, tulle dress. The silhouette of this dress is truly perfect, flowing gracefully as she walked down the runway.
#3: ANDERSON .PAAK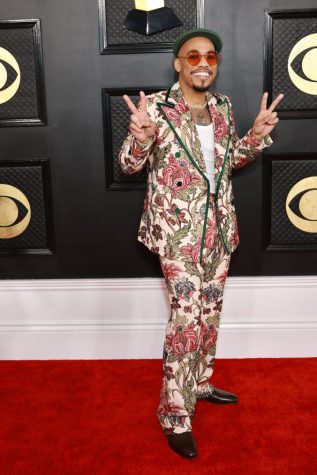 The third best dressed was American rapper, Anderson .Paak. He wore a Gucci suit that can be described no other way than your grandmother's couch—but good. The suit was tailored perfectly and the matching hat pulled it all together. Although this opinion may be controversial, I honestly think that this was one of the best looks of the night.
#2. JENNIFER LOPEZ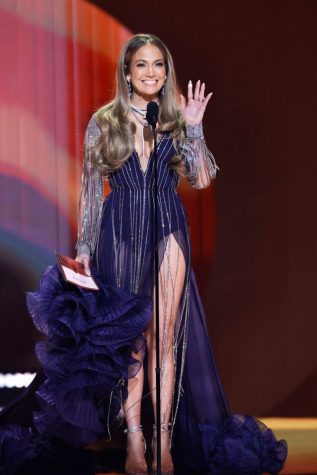 In second place is actor/singer/dancer Jennifer Lopez in a deep blue Gucci gown with a plunge neckline. Lopez constantly steals the show with her looks, and once again did with this one. Not only was it absolutely gorgeous and flattering for her, it was extremely formal and encompasses the "Grammys" look. 
#1: CARDI B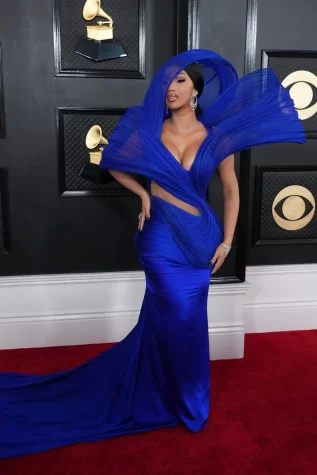 The best outfit on the carpet this year was singer-songwriter Cardi B with a Gaurav Gupta Couture piece. What really made this look the best one was how unexpected it was. I haven't always been fond of Cardi B's award ceremony outfits in the past, but this one really was impressive. The top of the dress went over her head, winding around in very delicate ways, making this the most show stopping look because although it was a very big look, it didn't go too far like some of the worst looks. 
WORST DRESSED 2023:
#5: HARRY STYLES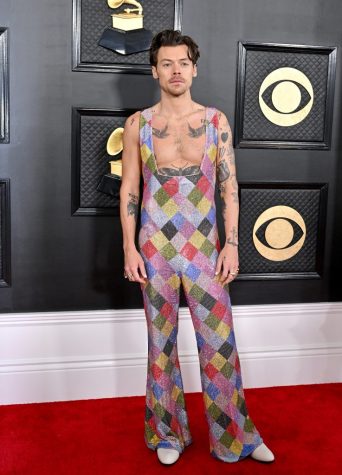 Possibly the most controversial rating is placing singer Harry Styles in fifth from last place, wearing Egonlab x Swarovski. Although he is a very well liked person, who has had very cool looks in the past, this look feels like something he has worn out and it wasn't good the first time. The neckline, pattern and color palette all make this look one of the worst ones of the night. 
#4: LIZZO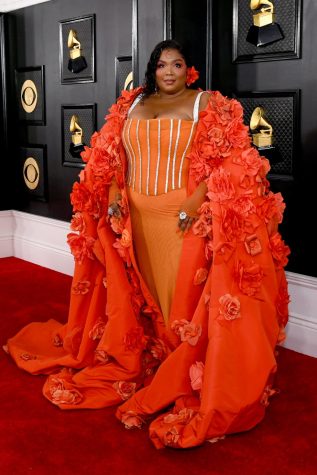 In fourth from last is American singer Lizzo, wearing Dolce & Gabbana. I can see the vision of the look and she has worn incredible looks in the past—including her outfit for her performance at the event that night—but she didn't pull this one off. The over layer and dress are completely different shades of orange that do not flatter each other well. I honestly think that if a different color decision was made this could have been an incredible look, but I couldn't get past the differing colors. 
#3: MIGUEL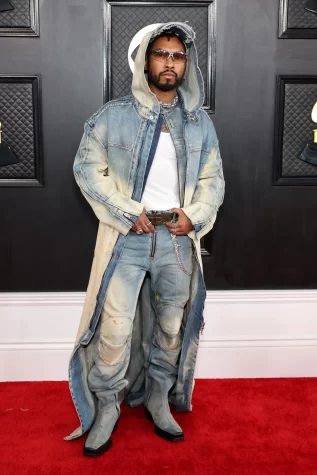 The third worst look of the night was Miguel, an American singer and actor, wearing Diesel. I have just one thing to say: joutfit. I don't know what went through the designers minds when they chose to make every article of clothing he wore out of denim, but it was a bad decision. Not only was it deeply informal, it is truly just an extremely ugly outfit, even if it wasn't entirely made out of denim.
#2: MACHINE GUN KELLY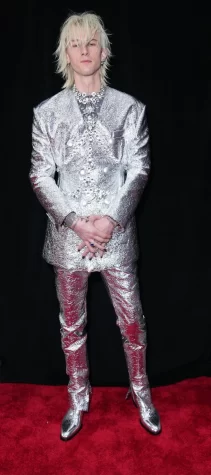 The least surprising ranking goes to singer and actor Machine Gun Kelly in second to last place, wearing Dolce and Gabbana. Machine Gun Kelly constantly wears terrible looks, so when he once again lowered everyone's standards, it was nothing new. I'm not sure who decided that these celebrities should just blindly pick a color and make every part of their outfit that color, but I wouldn't recommend them doing it again. 
#1: DOMi and JD BECK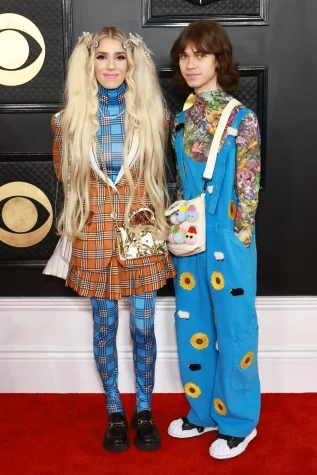 The very worst outfit goes to jazz duo DOMi and JD Beck. I have no words to describe the horror that encompasses the clothes they wore. Not one thing is cohesive, like someone blindly grabbed clothes from different places and told them to put it on. However, the one thing that DOMi and JD Beck had going for them was a risky look, as some people played it too safe with the most boring looks of the 2023 Grammy Awards Ceremony.
THE MOST BORING 2023: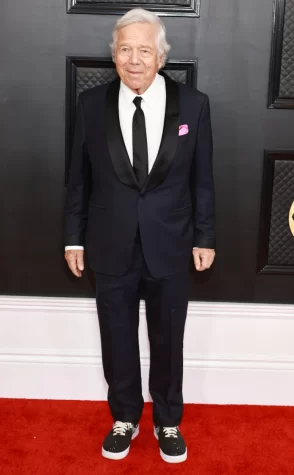 To start it off, all of the men that chose to go with a plain black, white or gray suit. When going to a place like the Grammys, people should be going all out, like Cardi B or even DOMi and JD Beck, but instead these people chose to wear the same thing that 15-year-old boys wear to their homecoming dance. This includes looks like Pusha T, LL Cool J, Trevor Noah, Robert Kraft and Yo Gotti. There are always a handful of people that choose this look and it is never exciting.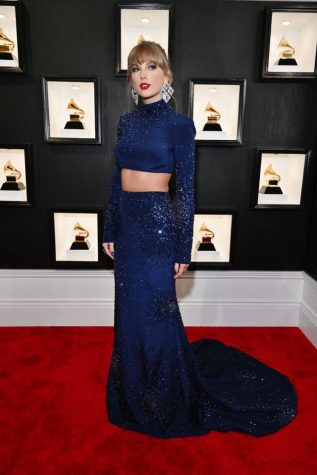 Another look that was deeply underwhelming was American singer Taylor Swift wearing Robert Cavalli. I have always loved the looks that Swift has had for award shows, but this one was just nothing special. She has worn incredible, highly bejeweled outfits in the past and although this look was gorgeous, it was anticlimactic and not her best look.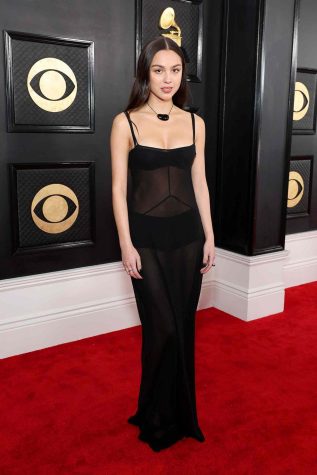 Singer/actor Olivia Rodrigo was in a similar situation, wearing Miu Miu. She has had incredible looks in the past, including her 2022 Grammy's dress and Met Gala look. Her dress this year was just a sheer, black dress. There was nothing exciting about her look and I found it underwhelming because she has done very cool looks in the past.
This year, there weren't many exciting or unique looks. Most celebrities were underwhelming or uncoordinated, making the 2023 Grammy's Award Ceremony overall less exciting. People watch not just to see the awards but to also see the outfits and there was nothing interesting for everyone to see. In all, all of the celebrities could have—and have in the past—done better.