Your Average Joe is an Alcoholic
Country music is infamous for its romanticization of alcohol abuse, but what if there was a song for sober country music fans?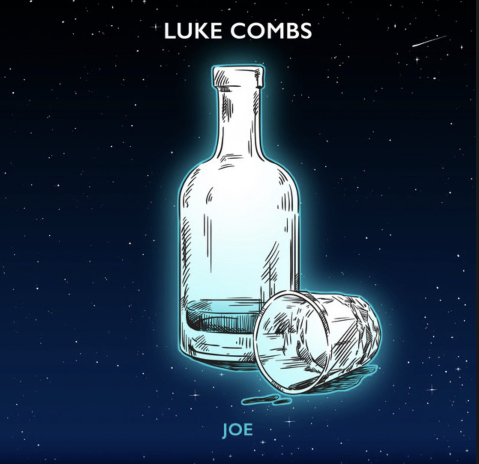 Luke Combs' new song "Joe" is about struggling with addiction, specifically alcoholism. Combs is a 32 year old country music singer and songwriter with many Grammy nominations. 'Joe' was first announced on his Instagram where he posted a block of text stating: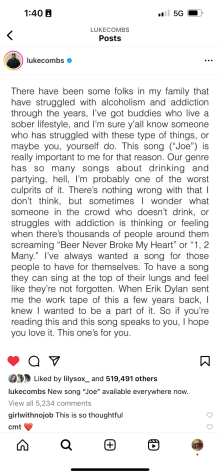 The song starts with the introduction of "Joe." Joe seems like your average guy, "I gotta job and my name's Joe." The character Joe then sings "Made a couple wrong turns, Did county time" quickly shifting the story to a more vulnerable tone. Joe sings throughout the song about addiction and overcoming it.
Even as a new release, "Joe" has already touched the hearts of fans. Joe Williams, a former NRL player turned motivational speaker who is commonly known for his book, "Defying the Enemy Within: How I Silenced the Negative Voices in My Head to Survive and Thrive" comments on the song. On the Instagram post, Williams comments, "Well, this song speaks loud & clear; my name is Joe, I'm a recovering alcoholic who has had a troubled past with substance.. A better life without it no doubt; Good days, better tomorrows & plenty of bright lights at the end of the bottle!!" Similarly, iHeartRadio commented, "here's to good days, better tomorrows" which seems to be becoming a popular lyric from the song and making an impact on sober country music lovers.
According to the National Institute on Alcohol Abuse and Alcoholism, 85.6 percent of Americans over the age of 18 have drunk alcohol at least once in their life. The National Institute on Alcohol Abuse and Alcoholism also estimates 140,000 people die from alcohol related deaths every year in the United States of America. Alcohol related deaths are the 4th highest preventable cause of death in the U.S. 
One organization, Alcohol Rehab Guide, completed a study on alcoholism in country music, "Country music was the second most alcohol-prevalent genre, with 32% of the mentions being found in country songs." The presence of alcohol abuse in country music affects its listeners in many different ways. 
According to the organization, "Florida Georgia Line came out with the smash hit "Round Here" in 2012. The song boasted the lyrics "That Fireball whiskey whispers / Temptation in my ear / It's feelin' alright Saturday night / And that's how we do it 'round here," prompting a 310% increase in Fireball sales that year that totaled to $61 million in 2013." Since country music can cause its listeners to drink, it may be possible that songs with themes of sobriety could influence a decrease in alcohol sales. Nonetheless, songs with sober themes are an act of inclusion in a genre that is heavily associated with excessive drinking.
"Joe" is an impactful song on the sober country music community. There are many songs in country music that romanticize alcohol abuse. Combs admits in his Instagram post, he is "one of the worst culprits of it." However "Joe" is a step away from promoting alcohol abuse in country music and a step into promoting sober values.