Hit the Court with New Co-Captains
Hang on for a minute...we're trying to find some more stories you might like.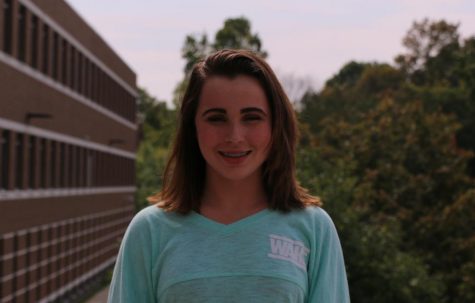 More stories from Olivia Perron
The varsity girls basketball team hits the court for a new season with two new co-captains: senior Danika Murray and junior Emily Olson. The two were selected by their teammates and varsity basketball coach and history teacher Simon Bato at the start of the 2017-2018 season.
Olson and Murray's goal is to motivate and educate their teammates to do their best in practice and during games.
Olson is going on her ninth year playing basketball. She was pulled up to the varsity level at the end of her freshman season and played her entire sophomore year there. As a junior, she feels being co-captain is an honor.
"
"They are great kids and great student athletes. They perform not only on the court but in the classroom as well. They have really worked well together so far.""
— coach Bato
"[Being co-captain] is really fun," Olson said. "I really like to play the game and I love my teammates. I like the responsibility of the leadership."
Murray has been on varsity since her sophomore year and is going on her seventh year of playing basketball. She is described by her coach as someone who brings a positive outlook, determination and toughness to her team.
"I put my time and effort into basketball.," Murray said. "[Playing basketball] is something I have a passion for. I plan to bring the energy every single day and just encourage my teammates, push them to get better and push myself to get better."
Bato is confident in his team this year and believes that Olson and Murray are two vocal leaders who work well together. According to Bato, the girls this season have a strong work ethic and high energy. He looks forward to their practices and games every day. Bato said the two captains are respected leaders.
"They both work well with one another," Bato said. "They are great kids and great student athletes. They perform not only on the court but in the classroom as well. They have really worked well together so far."