Donut Bar Opens to Satisfy Sweet Cravings
Tres Leches: The one that made Donut Bar famous.

Overall Rating: 8.5/10
Presentation: I thought it had a very traditional look with the stack of cream, fruit and powdered sugar, although the fruit added height which was nice.
Taste: The texture of the airy cream, the taste of the acidic fruit and the chewier glazed donut all together tasted exquisite. Fruit is always a nice addition for some acidity to cut through all buttery flavor.
OMG Factor: The best part was the whipped cream. I was kind of surprised though since the only thing that suggested this donut was related to Tres Leches was the whipped cream. There was no heavy milkiness which is what a tres leches cake mostly is. This donut was great, but I was expecting more.
Rating:  4.5/5
Salted Caramel

Overall Rating: 7/10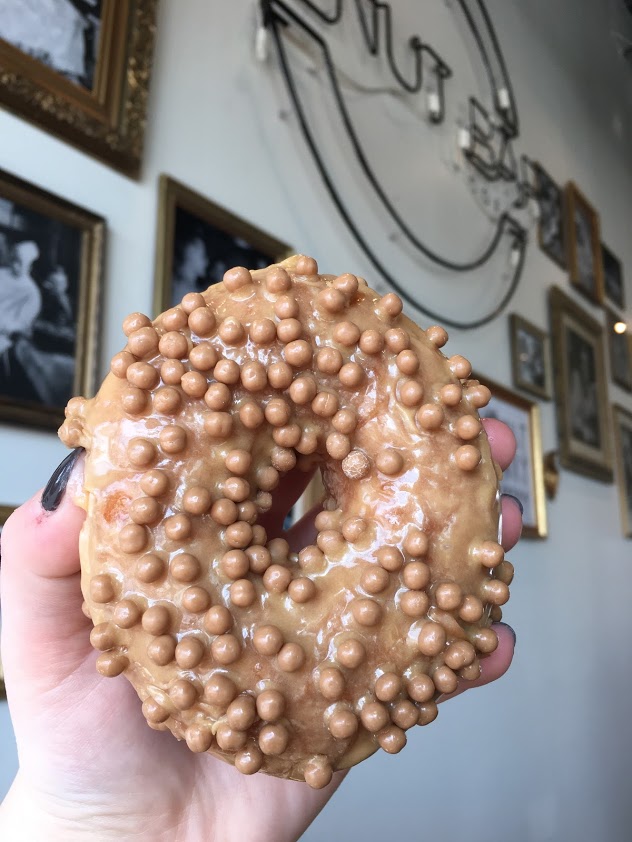 Presentation: I felt like the presentation was very unique with the 3D toppings.
Taste: It was a little bit more on the salty side. So, it's good if you're looking for something that isn't overwhelmingly sweet and onenote in that sense.
OMG Factor:  The part that most surprised me was the powerful saltiness. Usually, it's more muted even in salted caramel, but I'd say it was one of the most prominent parts of the donut. The crunchy topping was also a surprise, however, I think I prefer my donuts without a crunch generally speaking.
Rating:  3/5
Ferrero Rocher

Overall Rating: 3/10
Presentation: The presentation was pretty classy and traditional, it was also more spherically inclined compared to other donuts. That being said it still could be better, it was okay, but definitely not at the same level as their other donuts which tells me they are capable of doing better.
Taste: With the underperforming in the presentation department, I was expecting this donut to taste incredible. I was hoping that instead of filling the donut with a chocolate hazelnut spread like Nutella, it would be filled with a more specialty and gourmet chocolate filling. Instead, they stuck an actual Ferrero Rocher in it. Number one, half the fun of a Ferrero Rocher is the extra packaging, which we are already being deprived of. Number two, to say this donut was a little on the dry side would be an understatement. It was heartbreakingly dry, and the experience of eating dry donut along with the crispy wafer component of a Ferrero Rocher was an unforgettable experience in all the worst ways. The actual donut itself also wasn't glazed, and therefore wasn't very sweet at all.
OMG Factor: The disappointing "filling" was an unfortunate surprise.
Rating: 1/5
Fruity Pebbles

Overall Rating: 8/5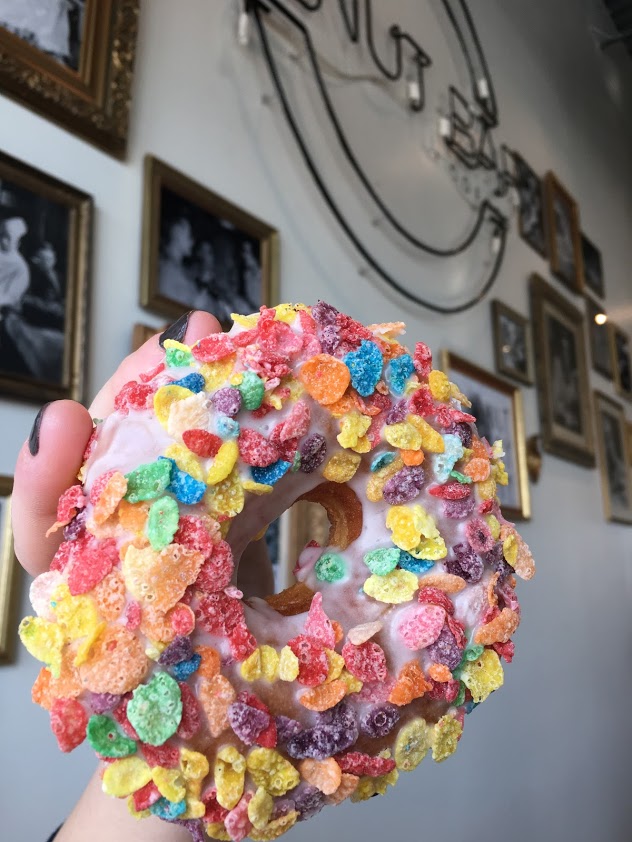 Presentation: This one gets an A+. The fruity pebbles added great texture and color.
Taste: I've never had fruity pebbles before, but it tasted like any sugary cereal on top of a donut. Nothing super special. Something should've been there to kind of meld the cereal flavors with the donut flavors, like a filling. It just seems like anyone can throw cereal on a donut. All in all though, it had a pleasant flavor, although I'm still not sure how I feel about crunchy donuts.
OMG Factor: The flavor combination, I've never had cereal with any type of donut before.
Rating:  3/5
Cookies and Cream

Overall Rating: 9/10
Presentation: The presentation was fun, no one can say no to a donut covered in Oreos.  The only reason the fruity pebbles donut was better in terms of looks was that the cereal added color.
Taste: This didn't just taste like Oreos thrown onto a glazed donut. Normally, Oreos tend to disintegrate in your mouth, with this donut the Oreos  disintegrate into your mouth as you chew, melding everything together.
OMG Factor: The best part was how the Oreo disintegrated into the donut in my mouth.
Rating:  4.5/5
Vanilla Bean Glaze

Overall Rating: 8.5/10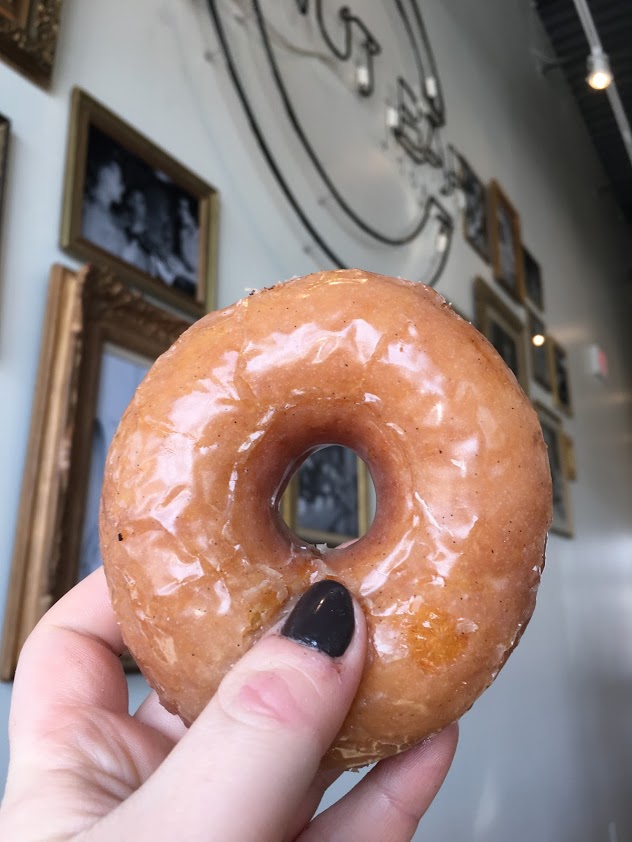 Presentation: What I liked best about the presentation was that you could see the vanilla bean in the glaze. The vanilla specs made it seem more gourmet; it was also comforting to know that the glazed with real ingredients rather than artificial flavoring.
Taste: Nothing extra, but it was great, just tasted like a normal glazed donut, maybe a little more buttery and less artificial but I really couldn't taste a difference due to the real vanilla bean. I will point out that I think for a good glazed donut, I'll go to Krispy Kreme just because of how those donuts deflate in your mouth. This donut wasn't necessarily cakey, but it also didn't deflate.
OMG Factor: I was pleasantly surprised to see the actual vanilla bean specks in the glaze.
Rating:  3.5/5
Holi Cannoli
Overall Rating:6.5 /10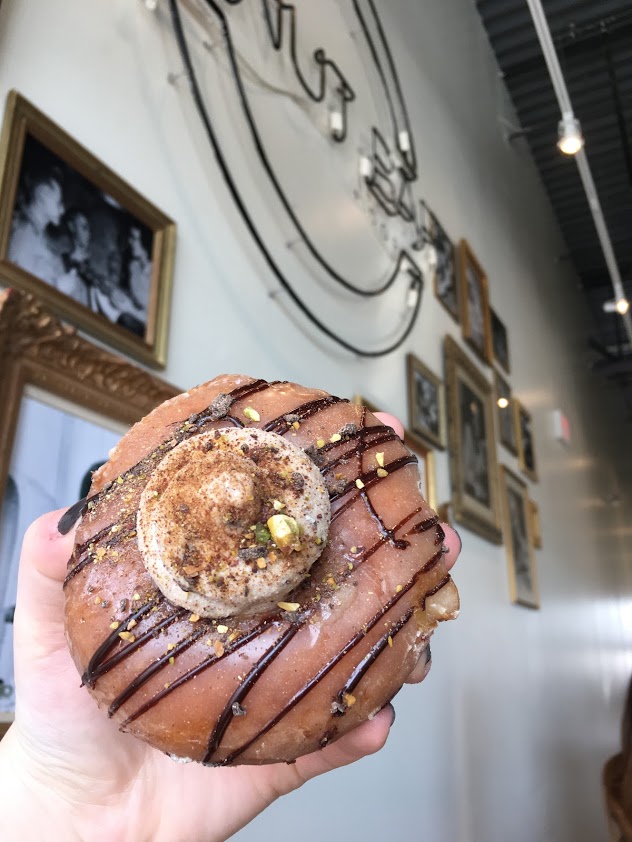 Presentation: Like a couple of others, it had a pretty traditional look.
Taste: I'm not a huge fan of cannoli, but I've never had a cinnamon flavored cannoli. There was a strong cinnamon flavor I wasn't a fan of, I like cinnamon sugar, but this had a more cinnamon spice, to almost a pumpkin spice flavor.
OMG Factor: The most surprising aspect for me was the cinnamon flavor. I also wasn't loving the fact that there was even more of the cinnamon cream filling inside the donut.
Rating: 2.5 /5
Raspberry Cream Cheese

Overall Rating: -1/10
Presentation: The presentation was cute, and the glaze was a really pretty shade of pink.
Taste: This donut was terrible. Terribly artificial. Artificial to a whole other level, almost to the point where it was perfumey in a bad way. The intense, loud, fake flavor takes over your whole mouth.
OMG Factor: I was absolutely shocked that this donut tasted so fraudulent, since the other ones were all so much higher quality.
Rating:  -5/5