Donut Bar Offers New Takes on Classic Donuts
Tres Leches: The one that made Donut Bar famous.

Overall Rating: 8.5/10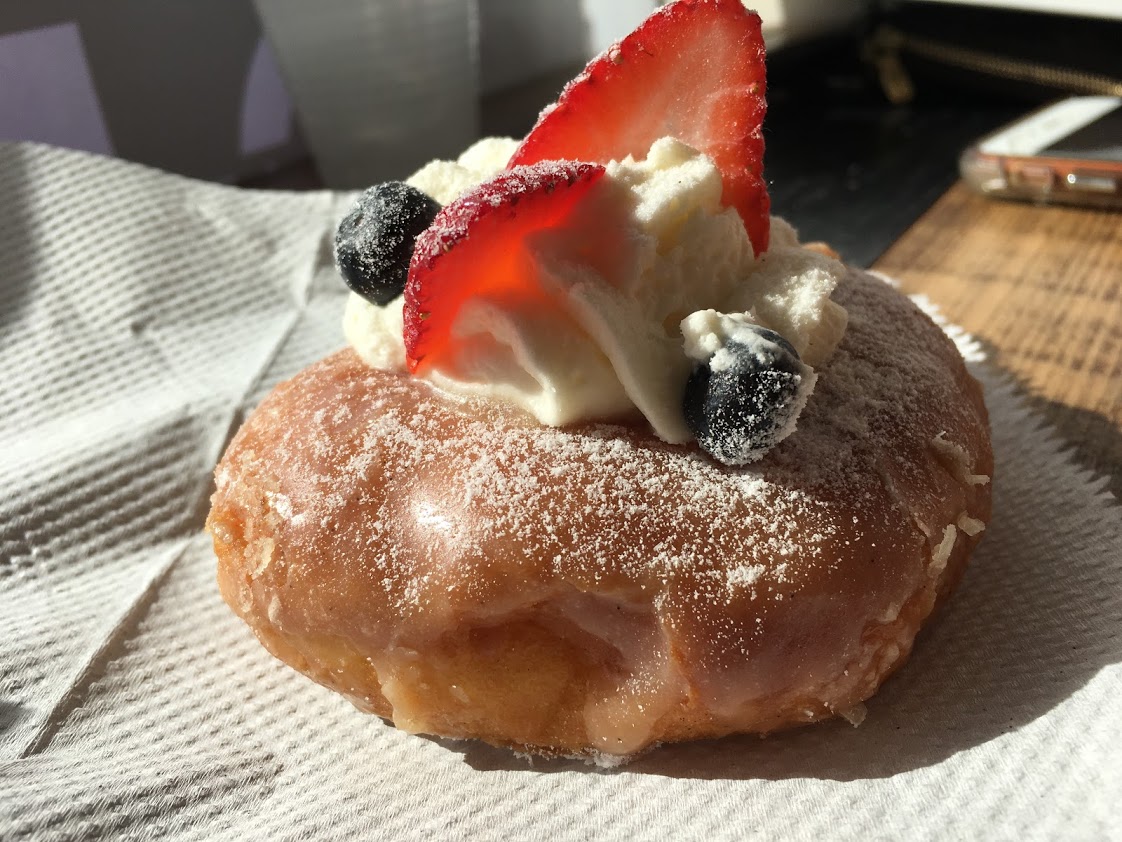 Presentation: I thought it was really traditional as well. The strawberry and blueberry added a nice pop of color.
Taste: I thought it was really good! It was light and airy and not heavy at all compared to other donuts.
OMG Factor: The fruit for sure.
Rating: 4/5
Salted Caramel

Overall Rating: 7/10
Presentation: I thought it was really cute! The little balls on it really add to the presentation.
Taste: All around it was pretty good, the balls gave it a nice crunch and you could definitely taste the caramel and sea salt. Not as sweet as I expected it to be, it could be a little sweeter, especially because it's a caramel donut, both things you would expect to be sweet.
OMG Factor: Crunchy bits
Rating: 4/5
Ferrero Rocher

Overall Rating: 3/10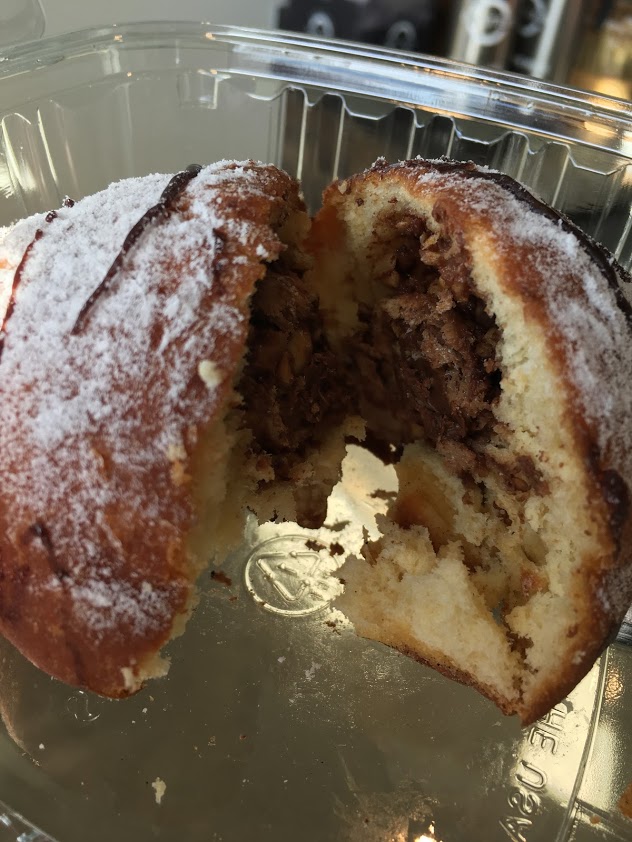 Presentation: It was pretty plain, just a  ball with powdered sugar on it.
Taste: Not that good and extremely dry. Would not recommend. The Nutella in the filling was good though, but it added to the dryness and chewiness. A Ferrero Rocher chocolate was in the middle of the donut itself but it, again, just added to the dryness of the donut. There was no cream in it at all which left me desperate for a cup of water. It was my first time ever eating a Ferrero Rocher chocolate and I expected to be wowed, based on how good the other donuts were, but this donut was very underwhelming and I definitely wouldn't order it again. I could see how this donut could possibly be someone's favorite, if you like dry chewy donuts and Ferrero Rocher chocolate that is. But for the most part, I think me, Murryum and a lot of others an agree that this donut was quite unforgettable (in a bad way) and would not be the reason I would go back to the Donut Bar.
OMG Factor: It wasn't a good donut but if I really had to choose, the Nutella
Rating: 2/5
Fruity Pebbles

Overall Rating: 8/5
Presentation: One of my favorites for presentation. The fruity pebbles are such a creative idea and made the donut really colorful and eye-catching.
Taste: Delicious! It was my favorite donut that I tried when I was there; I really loved it. It had the perfect mix of sweet and crunchy.
OMG Factor: The fruity pebbles on top.
Rating: 5/5
Cookies and Cream

Overall Rating: 9/10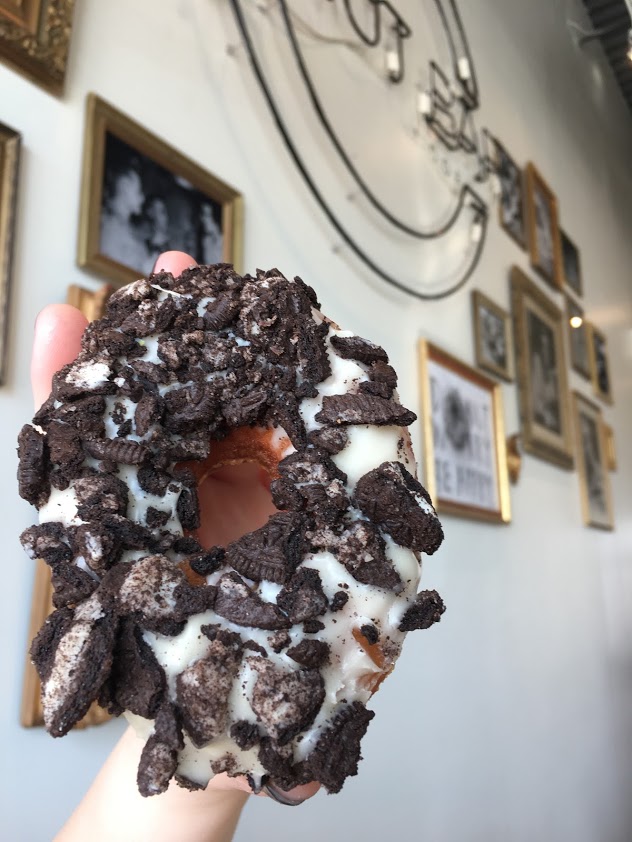 Presentation: Cute presentation, but one you would expect from a cookies and cream donut, Oreos pieces and cream.
Taste: Overall I thought it was pretty good. You could definitely taste the classic Oreo flavor, but it was a tad bit too sweet for my liking.
OMG Factor: The Oreo crunch
Rating: 4.5/5
Vanilla Bean Glaze

Overall Rating: 8.5/10
Presentation: Pretty plain, just regular glaze on top, but you can't expect anything too fancy from a regular glazed donut.
Taste: It was amazing! Tied with Fruity Pebbles for my favorite. I would buy a box of a dozen of just this donut they were that good and had the perfect amount of sweetness. When it comes to classic vanilla glazed donuts, I always compare them to Krispy Kreme, who is the queen of glazed donuts. This donut definitely delivered and, in my opinion, was just as good as Krispy Kreme.
OMG Factor: All of it!
Rating: 5/5
Holi Cannoli
Overall Rating:6.5 /10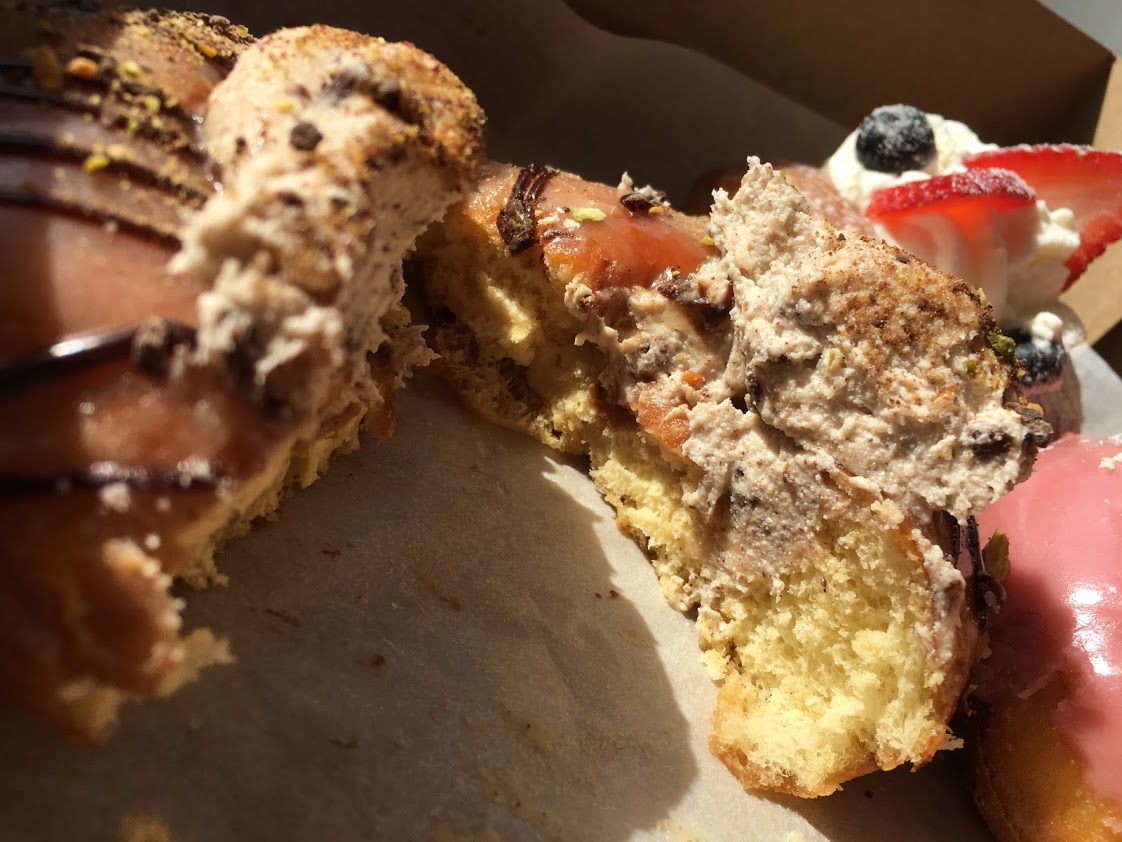 Presentation: The cannoli cream on top of the donut definitely reminded me of a cannoli right of the bat which was great because I love cannolis. The cinnamon dusting and the chocolate on the outside made it look more aesthetically pleasing.
Taste: I thought it was pretty delicious! It definitely tasted like a cannoli, which again I was fine with because I love cannolis. There was a lot of cream inside the donut, and I mean a lot (I felt like I got more cream than an actual donut) but strangely enough, it works. It wasn't too sweet and delivered the cannoli flavor I was hoping for. I would probably order it again.
OMG Factor: Cannoli cream
Rating: 4/5
Raspberry Cream Cheese

Overall Rating: -1/10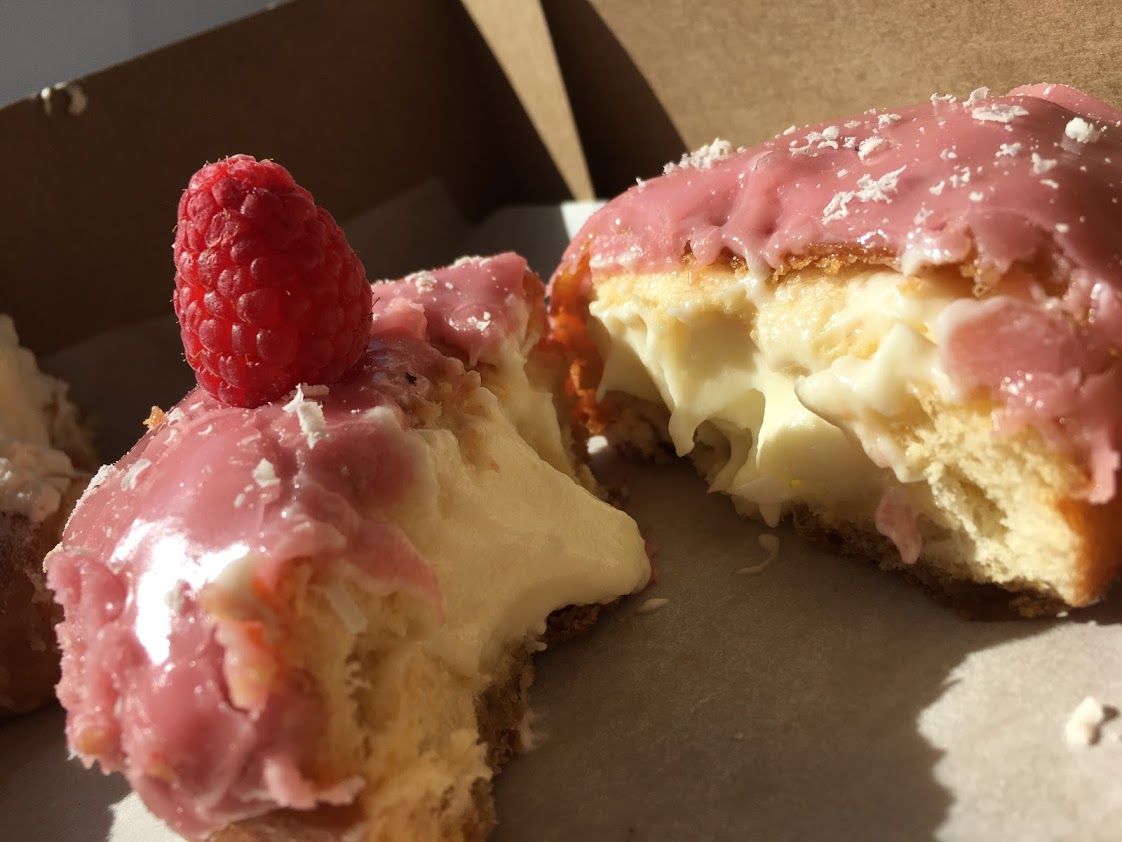 Presentation: I thought the pink cream on top of the donut was really cute as well as the raspberry on top, but it just seemed pretty plain. I was hoping for something a little more? Maybe some more raspberry instead of just pink cream.
Taste: It was pretty good to me, I know Murryum doesn't like it because she thought it tasted artificial, which it did a little bit and I can see where she is coming from. But just because it may taste a little artificial, I won't give it a low grade; I'm judging based on the taste and artificial tasting things don't necessarily taste bad unless it tastes extremely artificial, which it didn't. There was, like the cannoli donut, a lot of cream cheese (and I mean a lot). But again, like the cannoli donut, it worked. This was a raspberry cream cheese donut so it's not a bad thing that the donut had a lot of cream cheese. This donut isn't for everyone though, the massive amounts of cream cheese is an acquired taste.
OMG Factor:
Rating: 4/5