D1 Destiny
Francesca McBride reflects on her high school volleyball career as she prepares to begin college athletics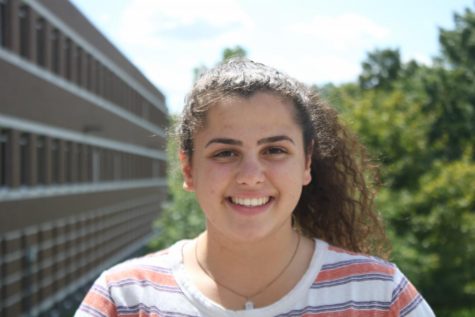 More stories from Meriam Meram
It is May 20, 2020, the last day of school for seniors. It is spring and the weather is getting warm, the sun is up, the sky is clear and the flowers are blooming. It is early afternoon, most seniors are in the gym, putting on their caps and getting last minute pictures with their friends. They line up and begin walking, commencing the senior clap out. Making their way throughout the entire school, many seniors are greeted and hugged by their teary-eyed teachers and underclassmen friends one last time before they walk out of Troy High possibly for the very last time. It may be a bittersweet day for a lot of seniors, possibly one of the best days for a lot of them, but it is a day senior Francesca McBride will not get to experience. She will be 834 miles away in Starkville, Mississippi, training with her new teammates on the Women's Volleyball team at Mississippi State University.
McBride will graduate high school in Dec. 2019. Although she still plans on coming back for prom and graduation, McBride will not be here for the second semester.
Her decision to graduate early had a lot to do with her volleyball career thus far and her future plans at Mississippi State University.
"I just feel like I've outgrown playing club volleyball and I feel like it's time for me to move onto something else," McBride said. "Getting to be able to have time to adjust to college, and college sports, just gives me that head start. It's really going to help propel my game forward."
Friend and teammate of McBride, senior Athena Samson, is very emotional about McBride's early graduation.
"I'm kind of sad about it because we're close friends and she's going to be so far away, but I'm also really happy for her because she loves the coach and the team," Samson said. "I know this is a good thing for her because she's getting to train with her team and she's getting a feel for her college."
"
Never let the game become a job, The work is the road to happiness."
— Coach Tom Vigilant
Although McBride plans to move on to play volleyball at a Division 1 school, she still cherishes her memories from Troy High Volleyball and reflects on her four years on the team.
"My first time carving pumpkins with some of the girls is one of my favorite memories with the team," McBride said. "Winning districts this year was especially memorable because it's the third time we won districts and it's very important to me because I'm a senior now, and it's what all the other seniors have done before me. It just feels so good to carry that on."
McBride has also been able to further improve and evolve her volleyball skills over the past four years, thanks to varsity coach Tom Vigilant.
"As [McBride] has matured and gained control of her instrument, she has learned to control some very long moving parts as she continues to get better," Vigilant said.
Vigilant also has some last words for McBride before she graduates.
"Never let the game become a job," Vigilant said."The work is the road to happiness."
McBride has similar views with Vigilant as to what she has improved upon throughout her high school career.
"My confidence and self esteem on the court has definitely improved," McBride said. "I became more confident in the way I play and with certain skills like passing and serving and knowing what my job is on the court. I've also been able to gain more control with my hitting, I've gotten better at getting the ball to do what I want it to do."
Vigilant also reflects on watching McBride grow as a person over the past four years and has high hopes for her future plans in Mississippi.
"It's a joy to watch all the girls grow as people and players," Vigilant said. "My happiness in [McBride] is her singular joy in life. I believe college will take [McBride] to the next level. I'm sure she'll be successful and I wish her well!"
McBride gives some advice to her future self to look back on.
"Stay positive, keep working hard," McBride said. "Stay on top of the routine."
Samson also has some tips for her friend and teammate as she enters a new chapter in her life.
"Be as social and outgoing as you possibly can, make new friendships, bond with your teammates and not be in your own shell," Samson said. "I know she's going to kill it."