A Spark For Music
Senior Angela Lee reflects on her journey toward becoming a professional musician
Music, to the average person, can be beautiful and pleasant to listen to, but to many musicians, music is everything — it's their life, their struggles, their happiness. That is what music is to senior Angela Lee. 
Lee is a graduating senior member of Troy High's Orchestra and on her way to pursuing a musical career. 
"I always had an interest in pursuing music as a career, but I became fully determined during the summer before high school," Lee said. 
Lee spent the summer as a member of Center Stage Strings, a summer institute held at the University of Michigan. She got to spend her time effectively exploring the extent of her musical ability. 
"Being able to solely focus on my music and watching my peers perform helped me realize that this type of work was something I wanted to pursue in my career," Lee said.
Lee has always been interested in music since the moment she picked up the violin at six years old.  
"I always had a spark for music since I was young," she said. "Seeing and feeling the different emotions my music was capable of evoking made me realize the power of communication through performing." 
To Lee, music is much more than just notes on paper or a simple tune. 
"I always view music as not only music but as a bridge between different universal concepts," Lee said. "One can always use their education in music to connect it with another passion and explore.
The thrill of performing is what makes it all worthwhile to Lee. 
"Some of my proudest moments were when I talked and connected with people after performing at concerts," Lee explained. "It's always nice to know my music inspired them in any way, and I feel a strong sense of achievement when my music is able to whisk them away in their own journey."
Many people can agree that Lee's performances are truly something remarkable. One such person is orchestra director Alan MacNair. 
"Angela is quiet but fiercely motivated to create moving performances of the great works for the violin," MacNair said. "She has a mature, creative approach to practicing and preparing for a performance."
As of now, Lee has already been accepted into the University of Michigan for violin performance and is looking forward to the future.
"There is fear that comes with the uncertainty of how my journey will end," Lee said. "But I know that realizing my passion for music and performing is already a huge step in the process."
About the Writer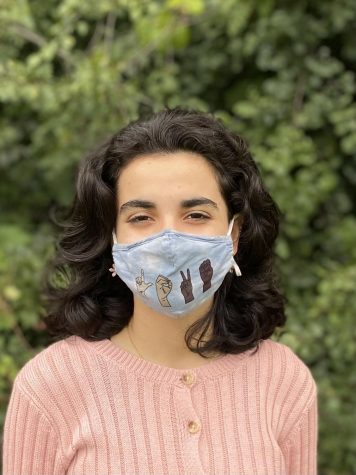 Raneen AlRammahi, Social Media Editor
Raneen AlRammahi, junior, is one of the returning members of The Chariot. She joined the newspaper sophomore year because of a teacher recommendation. Raneen loves being able to make graphics for The Chariot's stories. She loves the freedom she has when writing a story and enjoys interviewing people. In her free time, she loves to draw as well as play violin. She enjoys listening to all types of music but especially loves to listen to classical music while she writes. But what she loves more than anything in the world is hanging out and playing video games with her best friend.