The Name's Bond…. TSD Bond
Introducing the money that will change Troy High for the better.
The Troy School District has been given the opportunity to receive over 555 million dollars to go towards improvements in both Troy Athens High School and Troy High School. The money will also go towards the other schools located in Troy. These improvements are named specifically as building upgrades, enhancing security and program updates. The 555 million dollars will be split into three increments or "phases" over a period of ten years. Each phase will dictate what projects will be started and completed before the next phase can begin.
The effect on the average Troy homeowner will be an additional everyday one-dollar tax. This is the first time in over thirty years that the Troy School District has asked for additional tax money to be spent, the last time being for a new Troy High School building in 1989.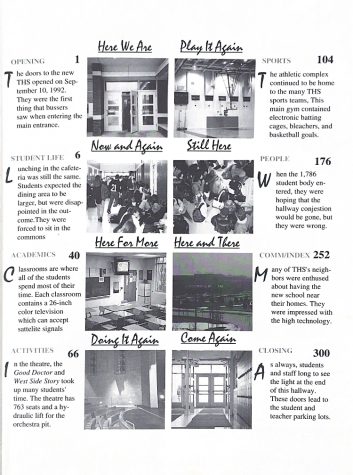 At Troy High School, the bond aims to fix the circulation issues; namely, the congestion in the hallways. Currently, there is one hallway that connects the two main buildings that make up the school. Before and after fourth hour, the hallway becomes immobile with a surge of students heading to their classes and to the cafeteria.
Junior Samridhi Sharma commented on this issue stating, "The hallways are so packed during passing time. There's like one main stairwell, I remember not being able to move and being pushed everywhere."
Remo Roncone, Troy High School's principal, refers to the 1993 edition of The Gladiator, the school's yearbook. "This is the yearbook from when Troy High opened — this Troy High, not the 1950 Troy High. The old Troy High got rebuilt for many reasons, but when this [building] opened it had 1,700 kids [and] it was crowded. And right now we're at 2,100 kids and it is very crowded."
With its current population, Troy High School has outgrown the building even more than it did before. This poses a security threat to the school.
However, the hallways aren't the only things up for expansion. Music rehearsal areas, for band and orchestra, are looking at being redesigned to be both bigger and better. There will also be increased student learning spaces, or areas where students will be able to collaborate with each other outside of the school's media center. This includes space for school clubs such as Robotics, who currently hold their meetings in various parts of Troy High School's hallways.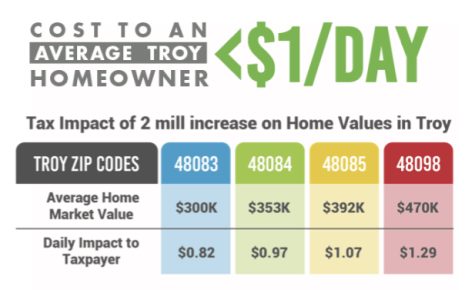 Upgrades to the school aren't entirely academically-focused. The bond promises to help improve the current athletic spaces at Troy High School, including the soccer fields, tennis courts, gymnasium and football stadium.
"The player, coach and fan experience is diminishing and it needs to be rectified," Roncone stated while referring to the current issues surrounding spring sports.
Things like frost and rain delay the beginning of the spring sport season for sports like softball and baseball. Wet baseball fields cannot be played on and students must wait until the area has been dried to play safely; this delays games within the spring season. This would be rectified by artificial playing fields.
There will also be general repairs to demonstrated mechanical, electrical, building interior and exterior needs. Certain areas of Troy High School haven't been upgrading since the new building was made in the late-1980s, including windows. The school also still has furniture, such as desks, from the original school. Interior needs would also include the school's plumbing.
Sharma emphasizes the bond's necessity in regards to interior upgrades: "I know the bathrooms are all connected and if one goes down, they all go down. The bathrooms aren't fit for the amount of people in this school. The lines lead out into the hallway and they take forever to move. I end up cutting into [my] class time."
The Troy School District makes its case for the bond by claiming that having adequate space and facilities is integral to student achievement. Therefore, it promises to invest in current student programs to ensure success. New classrooms will be built in order to address the current classroom shortage. Special education needs will also be addressed with appropriate building accommodations and playground additions in Troy elementary schools.
At Troy High School, there are currently six science teachers that are placed in traditional classrooms without the benefits of having readily-available gas and lab tables for experiments. The bond will allow for an additional wing to be built to either the English or History hallways for these teachers, whilst freeing up the space for other traditional subjects.
Efforts to encourage additional money from the bond proposal for Troy High School have led the administration to invite the Facility Review Committee into the building, as the money is allocated based on demonstrated need.
More recent events have led Troy High School to become almost dependent on the bond for any progress on rectifying certain school issues. The district will have to look at alternative options if the bond is not passed. If passed, Troy High School can expect to see certain improvements within the next year, like new furniture and the artificial fields. Other projects, like expanding the school, will start throughout the ten-year period. An example of the benefits from a previous bond include the renovated media center, which was completed in time for the 2021-2022 school year.
On Nov. 8, 2022, residents of Troy will be given the opportunity to vote on the bond. Questions regarding the bond can be emailed to [email protected]