TTE Stays Radiant
The Chariot reviews the upcoming fall play, "Radium Girls".
The Troy Theatre Ensemble opens with their fall play, "Radium Girls", on Nov. 18, Nov. 19, and Nov. 20 in the Troy High School auditorium. "Radium Girls" tells the tale of three U.S. Radium Corporation employees who fall victim to a mysterious illness. The company is famous for their radium-painted watches and employs young, school-age girls for the work required. Everything seems perfect until jaws start to rot, and people's own life-clocks stop ticking. Grace Fryer, played by senior Kiara Gilmore, files a lawsuit against the company claiming that the blame falls on them. Arthur Roeder, played by junior Patrick Mahoney, struggles with balancing his desire for profit and a moral code as the lawsuit takes a toll on the reputation of his newly acquired company.
I visited three days of back-to-back rehearsal, witnessing actor's notes and boisterous laughter in between scenes. I stood amazed as I watched the craft of the effort put into the play and its creation. Although "Radium Girls" is a well-known tale, the Troy Theatre Ensemble brings it to a new life with every line and every set adjustment. The actors themselves offered something to it that cannot be replicated.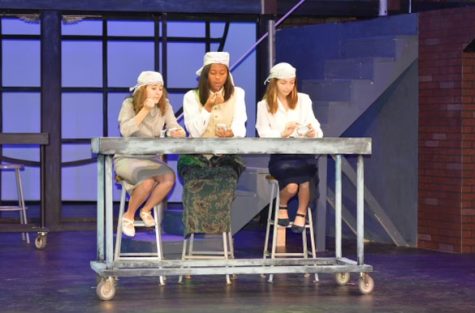 Sophomore Naomi Player held the role of Kathryn Schaub, the first girl to start ringing the alarm bells when Irene Rudolph, played by sophomore Reagan Feld, falls ill. When Naomi Player walked on stage, you noticed her. When Naomi Player opened her mouth, she was the only one you noticed. An unexpected star, her natural charisma challenged the stage. There was no boundary between the audience and where she stood. Although I had watched her practice the same scenes numerous times, she remained a breath of fresh air and I felt like I had been watching a god at work, that this was the universe she had created.
"
I felt like I had been watching a god at work, that this was the universe she had created.
Similar feelings were shared when Gilmore graced the audience with her presence, which was, thankfully, frequent. In fact, I struggled with who I should look at when Gilmore and Player shared the stage as both had a quality that demanded they be looked at. Holding the lead role, Gilmore played Grace Fryer with an unexpected… grace.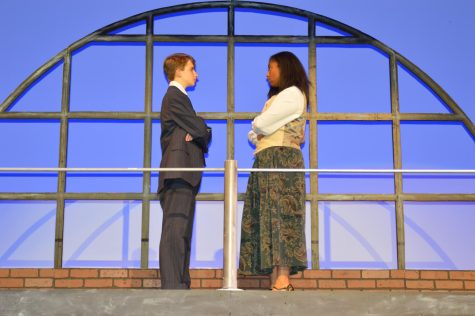 Gilmore's costar, Mahoney, shares his thoughts on Gilmore's performance: "I've worked with Kiara before, and she is the kind of actor that makes everybody else embarrassed to be there because she is so on top of it. She makes the rest of us look bad — that's how good she is."
I did not have extremely high hopes for the play, being "Radium Girls" tackles a subject heavier than what I'd seen of the Troy Theatre Ensemble with their shows last year, "Pride & Prejudice" and "Mamma Mia!". I couldn't have been more wrong. The depth of Gilmore's emotions was more nuanced than the comedic performance I had been expecting. That isn't to say that "Radium Girls" left me grim-faced and melancholic, I did let out a laugh every so often, but instead I was left swept off my feet and this performance is only a testament to the talents of the Troy Theatre Ensemble.
Gilmore shares similar feelings on the tone of the play, "It's very different from shows that I've done in the past. I've done comedy in the past but now I get to take on something more serious." She expands, "I really had to understand what Grace was going through, why she was willing to put herself out there and take them to court and stuff like that, because nobody else was willing to do that but she was."
Senior Anna McManus plays the role of Anna Fryer, Grace's mom. McManus has the kind of acting personality you'd expect on TV: sharp and quick-witted. The banter between the two Fryers was incredibly natural, but reassuringly, comes out of no pre-existing malice between the two co-stars.
"I think the cast in this show has to be one of my favorite casts," McManus said excitedly. "I think Kiara plays an incredible Grace and it's so exciting to watch. It's nice to know that we're putting out a message that has a lot of value behind it and is more than just something silly to watch on stage, but it can actually send something out to people and hopefully something audience members can take home with them."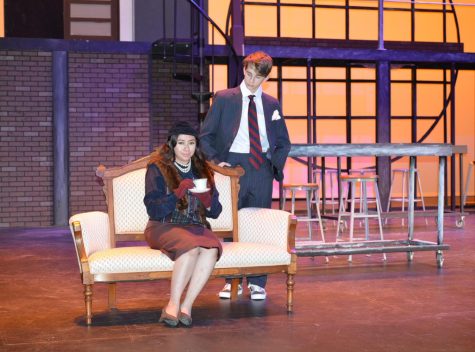 On a similar note, the performances by Mahoney and Abby Werenka, who played the wife of Arthur Roeder, left a person stunned. Werenka's character walks a fine line between upsetting the balance between her and her husband and challenging him for the truth: did he know the radium was going to harm those girls? Werenka handles this duality with ease, the audience can clearly see the discomfort in her face while she smiles that everything is alright. She has maturity that is uncharacteristic of a high school student. Mahoney complements this act perfectly, he pushes and pulls, creating a dance with his words and actions.
Mahoney describes his thought process during this segment of the play, "I was worried at first, and I talked to Mr. Vickers, and I was like, 'I don't know if I'm prepared to play a role in a romantic relationship yet. Especially a relationship that's [been] married for ten years and has kids.' I really focused on trying to portray myself as mature. The fights that adults have are different than what I would have as a teenager."
His own character is one where it's clear that he holds a lot of power, but he doesn't know how to use it, and nobody knows what he's going to do with it. It leaves you waiting. It leaves you captivated. It's also another example of the surprising emotional depth I had not been expecting. Mahoney embraces the requirements of his role well, like it had been molded for him and him alone. I don't think anyone else could've replicated the way Mahoney plays Arthur Roeder.
Gilmore agrees with this sentiment: "I really love watching Patrick. He is like doing things, man. He's going places for sure. He's quite the actor, I like him. He does Roeder so well."
I went on to ask Gilmore if there was anyone she liked to act with on stage, to which she responded: "TTE, we're an ensemble, this what we do and we do it together. It's hard for me to choose one specific person that I like to act with because at the end of the day, when we're all up there together, we're having a great time. So, to answer your question: everybody."
"
TTE, we're an ensemble, this what we do and we do it together. It's hard for me to choose one specific person that I like to act with because at the end of the day, when we're all up there together, we're having a great time. So, to answer your question: everybody. 
— Senior Kiara Gilmore
This same kinship was replicated in the responses of those I interviewed of the cast. The months of work put behind every scene is evident in every action of the Troy Theatre Ensemble, cast or crew, whether it be a memorized line or an efficient scene change.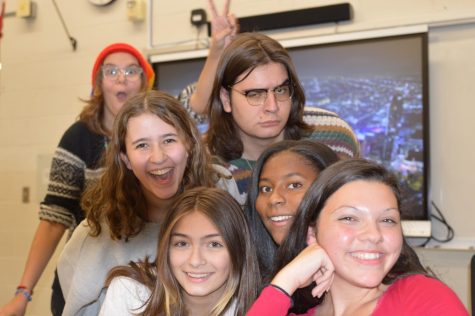 Let me put it for you this way: if the show were a ship, Vickers would be the captain. Mahoney would remain on his right-hand side, Gilmore on his left. Those on the cast work tirelessly to help keep the ship afloat — but in this show's case, it soars above the water.
Mahoney adds: "It's a great environment to be in because everyone wants to be the most dedicated, which makes me want to work hard, it makes everybody else want to work hard. It makes everybody bring a 110 percent to [the play]."
Although it is one thing to sail a ship, it's another to make it. The crew of "Radium Girls" worked tirelessly to create a time warp in Troy High School's auditorium. It's no longer 2022, it's the 1920s.
The head of Hair & Makeup for the play is junior Olivia Essebaggers, who also holds the role of Alma MacNeil, a higher-ranked employee in the play. This will be her first production since winning a Sutton Foster award for her work on the spring musical, "Mamma Mia!". Essebaggers was open to sharing her creative process:
"For this [play], I looked at different hairstyles and makeup trends of the time [period]. I took into account the different characters' statuses. Even if a hairstyle might be '20s, it might be a rich person '20s, so I'm not going to give it to a poor person in the play. I find pictures and read articles— I do a lot of research— and then I compile them [all together]. I [then] distribute them by character." Essebaggers then comments, "It's like a map, like a spiderweb sometimes, which is really fun."
Stagehand Caitlyn Jarbow offers insight into what it's like for stage crew members: "We get really close because we do spend a lot of time together as a crew, like doing this [rehearsals] and doing set builds. Set builds are like five, six hours long, sometimes longer."
Gilmore compliments the work ethic of the crew: "We have an amazing crew for this show, we really do. They are making sure that they are getting their stuff down, despite the fact that sometimes us actors can be in the way. They have so much patience with us, and I really appreciate that."
The historical accuracy and attention to detail does not only appear through the clothing and set design, but by the meticulous notes of the director, Marc Vickers. On my first ever day of rehearsal, I witnessed Vickers google things such as "Was the phrase 'hi' used in the 1920s?" (Answer: no) and "Did they have wristwatches in the 1920s?" (Answer: they weren't in common use) during run-throughs of the play. Although his attention to detail may not be immediately acknowledged, you'd have to be a fool to think it did not help transport you to the world created on stage.
On working with Vickers, McManus shares: "It's incredible. I mean, I feel like I'm getting honest and professional criticism and encouragement. It feels a lot bigger than just a high school show. He's a fun guy and he makes it enjoyable for all of us to be a part of. Honestly, he makes it the best show it can be."
Gilmore describes her experiences with Vickers: "Working with Mr. Vickers is amazing. Every time he speaks or gives me feedback, I'm just in awe. I'm like, 'Oh my god, he's such a genius. He knows what he's talking about.'"
McManus summarizes my thoughts on the play nicely:
"People should come and see 'Radium Girls' because it tells the stories that should have more recognition, for what happened to them and what they did, because the radium poisoning tragedy [is] not very well-known." McManus continues, "If that's not enough of a reason, the cast, the crew, Mr. Vickers' direction— it's an incredible show."
Tickets for the show can be bought here.