The Language of Flowers: Meanings Hidden Between Petals
A unique list of meaningful Valentine's day bouquets.
For many centuries, flowers have been used as a form of communication. From the great gardens of Queen Victoria to the floral fields of the Himalayas, regions around the world have cultivated entire cultures around flowers. While many will often associate them with love and romance, the forgotten language of flowers is intricate and sentimental, able to convey various emotions. When words fail, flowers prevail!
Dawn of Love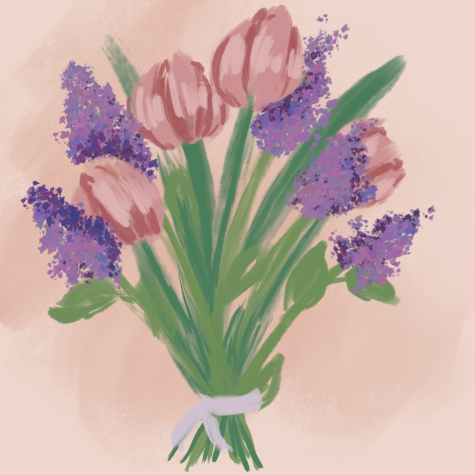 Tulip and Lilac posy, perfect for your first valentines with your partner!
TULIP (Declaration of love)
The feeling of first love is passionate and exciting, and no better flower to represent these emotions than the lovely tulip. Popularized in the 17th century, this delicate Mediterranean flower captivated upper-class Europeans with its beauty. Commonly used in eastern flower languages, a tulip's vibrant and unique colors communicate one's fiery love for another. The tulip derives its name from the Persian word dolband, later used to form the old Turkish word Tülbend, meaning "turban."
LILAC (First emotions of love)
Blossoming since the time of Henry VIII, this fragrant English flower grew wildly popular in Victorian literature. From Charles Dickens' "David Copperfield" to Charlotte Bronte's "Jane Eyre," lilacs have been used to symbolize the youthful and feminine feeling of love. The word "Lilac" originates from the Persian word lilak for "blue" or "blueish," a hint towards the flower's violaceous petals.
Everlasting Love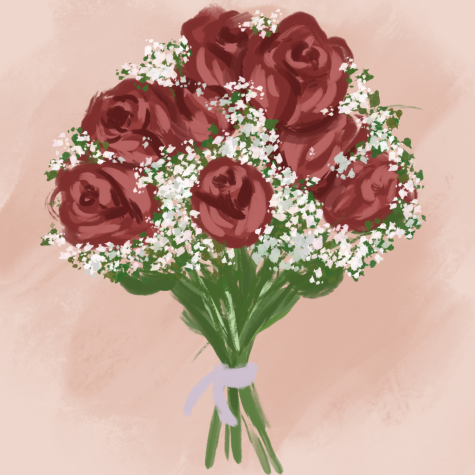 Rose bouquet decorated with baby's breath is a traditional arrangement for committed lovers.
ROSE (white- young love; pale peach- modesty; purple- enchantment; orange- fascination; pink- grace; red- love)
Adored by many for centuries, the rose is a classic yet sophisticated flower, ideal for nearly any occasion. Indigenous to many parts of the world, the rose first began its romantic career when the Romans associated the fragrant bud with Venus, the goddess of love. Further confirmations of its romance came from many Victorian authors and poets; as the Scottish poet Robert Burns once said, "o' my love is like a red, red rose." The stronger the love, the deeper the color, with white roses symbolizing a delicate crush and deep burgundy roses for passionate and sensual admiration. Gifting a rose has become one of the greatest forms of affection for many sweethearts around the world.
BABY'S BREATH (Everlasting love)
Native to Eurasia, this airy and ornamental flower has been a part of the American flower industry since the mid-1800s. Known initially as gypsophila flowers, Baby's breath developed its name when snowy little arrangements became a popular gift for expecting mothers. Due to their ability to blossom in harsh environments, these petite flowers became a symbol of eternal love.
Fragmented love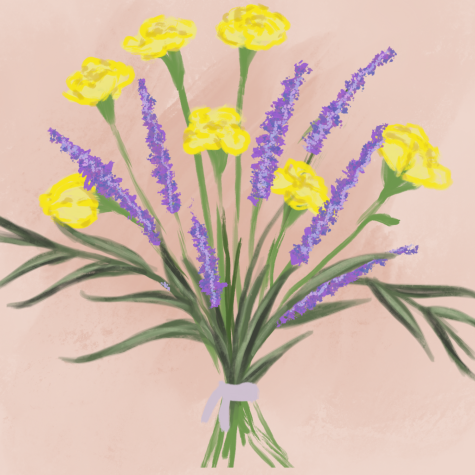 Yellow carnations, lavender and weeping willow leaves for the confusing situation-ships in your life.
YELLOW CARNATIONS (Disdain)
Carnations are strongly favored today for their affordability, but these intricate flowers are far from inferior. Sometimes attributed to the heavens, carnations derive their scientific name, Dianthus caryophyllus, from the Greek root Dios meaning " of Zeus," and anthos meaning "flower," giving them the name "Zeus's flower" or "god's flower." While most other colors tend to have a positive connotation, yellow carnations became a hidden sign of dislike and were given to bachelors as a gentle form of rejection.
LAVENDER (Mistrust)
Contrary to modern meanings, this unique perennial plant was once a symbol of betrayal, fear, and death. Lulled by its aroma, the ancient Egyptians were the first to put lavender to good use, using its fragrances in their mummifications and perfumes. While this sweet flower is now often associated with relaxation and healing, lavender gained its infamous reputation among Victorians after an urban fable told of an Asp hiding under a lavender bush after killing Queen Cleopatra; so for centuries, people approached the plant with great caution in fear of encountering a viper.
WEEPING WILLOW (Melancholy)
Named after its mournful disposition, the weeping willow became an emblem of grief in many cultures. During rainy days, the tree is said to be "weeping" for the way droplets fall along its long leaves. This gentle sapling prefers tranquil and wet environments near slow-running rivers or lakes. While native to eastern Asia, weeping willows have found a dwelling within North America and can be seen resting along the Great Lakes and other bodies of water.
Friendly affections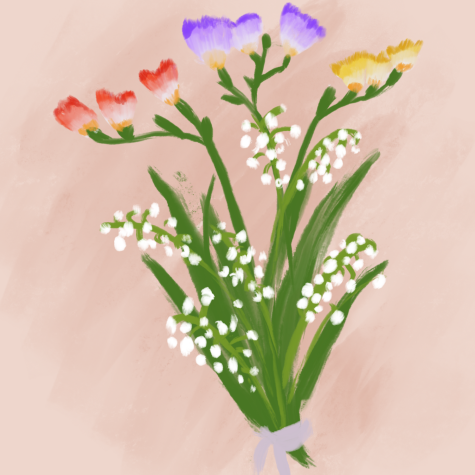 A freesia and lily-of-the-valley display for the special friends in your life.
FREESIA (Lasting Friendship)
Discovered by the Danish botanist Christian P. Ecklon, freesias earned their friendship title when Ecklon named them after his friend, Friedrich Heinrich Theodor Freese. These colorful South African flowers possess a citrus-like fragrance and are commonly used in aromatherapy. In addition, freesia can be added to salads or used as flavorings in many desserts.
LILY-OF-THE-VALLEY (Return of happiness)
Thriving in cool, damp environments, these charming little bells can be found scattered across European forests. After bathing in April's deluge, lily-of-the-valley reaches its peak in May; because of this, it became an old Germanic tradition to gift lily-of-the-valley bunches on May 1. Their association with the month of merriment made them a symbol of the returning happy and carefree days of summer.
Pet-Friendly Flowers
Note: always keep flowers out of reach for pets
❖ Cockscomb (affection)
❖ Rose (love)
❖ Petunia (your presence soothes me) ❖ Pansy (think of me)
❖ Freesia (lasting friendship)
❖ Lilac (first emotions of love
❖ Snapdragon (presumption)
❖ Orchid (refined beauty)
❖ Sunflower (false riches)
❖ Zinnia (I mourn your absence)
❖ Daisy (innocence)
Hypoallergenic Flowers
❖ Hydrangea (dispassion)
❖ Carnation (pink- I will never forget you; red- my heart breaks; white -sweet
and lovely; yellow- disdain; striped- I cannot be with you)
❖ Sunflower (false riches)
❖ Peony (anger)
❖ Rose (love)
❖ Orchid (refined beauty)
❖ Tulip (declaration of love)
❖ Daffodil (new beginnings/self-love) ❖ Iris (message)
❖ Asiatic Lily (majesty)
General tips to keep arrangements fresh:
❖ Remove all leaves below the vase waterline.
❖ Trim at least an inch from each stem. Be sure to cut at a 45-degree angle
❖ Use cool, fresh water.
❖ Adding a sugar and white vinegar solution to the vase water helps flowers
preserve the nutrients and pH balance they need to survive longer.
❖ Change the water every three to four days.
❖ Top off the water every day.
❖ Keep out of direct sunlight.
❖ Keep in a cool place.
❖ Remove any browning or dead petals as they appear.
❖ Trim stems every three to four days to ensure water absorption.
Local Florists:
❖ Maple Lane Florists
➢ 1522 N Crooks Rd, Clawson, MI 48017
❖ Tiffany florist
➢ 784 S Old Woodward Ave, Birmingham, MI 48009
❖ Della's Maple Lane Florist
➢ 1800 E Maple Rd, Troy, MI 48083
❖ Blossoms
➢ 33866 Woodward Ave, Birmingham, MI 48009