A Tough Act to Follow
The Chariot reviews the Troy Theatre Ensemble's latest musical, "Curtains."
The Troy Theatre Ensemble opens with "Curtains" on the weekend of March 10 through March 12. The group will also perform from March 17 to March 19. The show takes place in late 1950s Boston and follows the failed attempts of a cast and crew trying to make their way to the Broadway stage. It's opening night for "Robbin' Hood" when their leading lady, Jessica Cranshaw, played by senior Mary Germilhac, collapses suddenly after a less-than-stellar performance. With the threat of the show being permanently closed and the confirmation of Cranshaw's death, Lt. Frank Cioffi, played by junior Patrick Mahoney, is called to action to solve two mysteries: who killed Jessica Cranshaw and how to save the musical.
The musical begins with a scene from "Robbin' Hood" and while the costuming and ensemble are perfect, the leading role prances around missing out on choreography and line cues. A wonderfully dreadful performance by Germilhac, whose peppiness at the fiasco compliments the underlying tensions of the stage. The script itself is witty and well-rounded with perfectly timed one-liners and comedic pairs.
"Usually in shows, there's archetypes: the funny one, the villain, the ingénue, things like this," Mahoney explains. "Every single character in the show has their moment to be the funniest in the show or the most dramatic on stage. Every single character gets their arc."
Seniors Anurag Komaragiri and Sophia Shapic sound like an old Disney-like duet from the 1960s whenever they sing together. Komaragiri's voice is deep and soulful, vibrant against the calming vocals of Shapic. Shapic's performance was nothing short of delightful. I'd yet to see her on stage before and my only regret is that I hadn't seen her more.
Aaron Fox, played by Komaragiri, is the the complimentary musician to Georgia Hendricks, played by Shapic, the lyricist for the show. The two are the main duo producing songs for "Robbin' Hood." The musical in the show is directed by Christopher Belling, who often takes credit for things not controlled by him, and is played by sophomore Nicholas Urben. Belling and Marc Vickers, Troy High School's very own musical director, share their British heritage and career choice. Urben makes his first appearance after "What Kind of Man?", a number showing the reactions of those producing the musical to the bad press they receive after Cranshaw's performance. Here, we see junior Mark Hong's debut on the Troy High School stage as Oscar Shapiro, the man financing the production from the success of his lingerie line. Senior Kiara Gilmore plays the role of Carmen Bernstein, the producer, and remains as noticeable as ever. Her yellow work clothes set her apart from everybody else in addition to her voice.
Mahoney says it best: "There's a lot of discourse in theater where it's like 'Oh I'm a singer first, I'm an actor first, I'm a dancer first," what skill is most prominent. But I wouldn't be able to tell you what Kiara is because she just does it all so well. I would probably say she's a performer first, really."
Gilmore's character is one of the main reasons the show doesn't close after its disaster of an opening night, but her performance is show-stopping. 
"
I've been dancing for 12 years, so when I found out I got the role I was really excited, because that meant I got to do the dance solo.
— Junior Olivia Essebaggers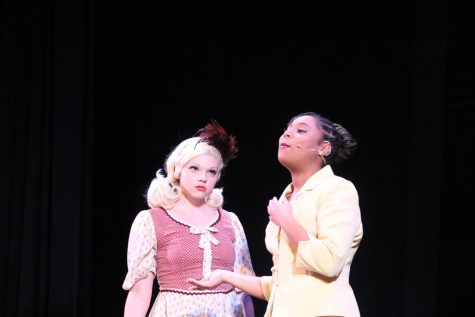 Junior Olivia Essebaggers plays the role of Bambi Bernet, the daughter of Gilmore's character and the step-daughter of Sidney Bernstein, played by Leland Huber. Essebaggers couldn't have played any other character the way she played Bambi. The talent you witnessed in "Radium Girls" is miniscule compared to what she's done in "Curtains." Her bubbly, insecure portrayal of Bernet contrasts perfectly with the snappy, sardonic Christopher Belling humor. Essebaggers' expressions are incredibly cartoon-like and her eyes are mesmerizing. Pardon yet another Disney comparison, but Essebaggers would play the perfect Charlotte La Bouff, Tiana's best friend in "The Princess & The Frog." Bambi also has a dance solo during "Robbin' Hood" and can be seen stretching in various parts of "Curtains."
"I'm a dancer first," Essebaggers said. "I've been dancing for 12 years, so when I found out I got the role I was really excited, because that meant I got to do the dance solo. I was actually able to choreograph it myself." She continues, "It's what inspired me to go for that part."
"The Woman's Dead" is one of my favorite pieces in the entire musical. The haunting blend of voices paired with nearly-comic adlibs sends shivers down your spine. I'm on my hands and knees as I say this, but please, Vickers, do an adaptation of "The Nightmare Before Christmas." I can promise sold-out shows.
Mahoney's character wears clothes just as ill-fitting as his occupation. Cioffi makes his way through the musical focused on the mystery of his love life instead of the murder that occurred the night before, much to the detriment of the case. He makes his mark with the number "Show People" where his hidden passion for theater is revealed and becomes increasingly prevalent throughout the show. With a Boston accent like Lin Manuel Miranda in "Hamilton," Mahoney's portrayal of the character is refreshing and a testament to his range. In the fall, Mahoney played the character Arthur Roeder in "Radium Girls," a rigid businessman with questionable morals. Cioffi, his opposite, flails around the stage chasing girls and leads.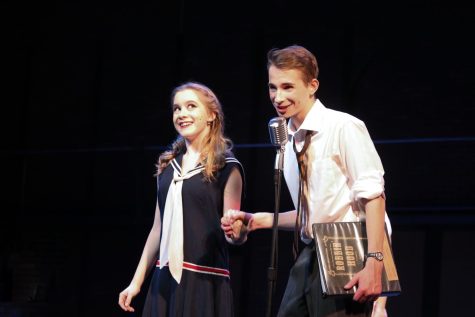 "I was very excited to be able to let loose with the role," Mahoney shared. "I felt like with Roeder, the stakes were very high and I needed to portray him in a certain way to push the story along, but the way that Cioffi is, I can just be as goofy as I want. Nothing feels like [I'm] going too far. I like having the freedom to play with him a little bit more, play with my voice a little bit more, [and] be a little more expressive. I definitely prefer playing roles that are more akin to Cioffi than more stoic like Roeder was."
Abby Bolas plays Niki Harris, a talented actress who dreams of the Broadway stage, and the girl Cioffi can't take his eyes off of. She flits on and off stage, like Tinkerbell, and her voice is just as fairy-like. She's the perfect girl-next-door, but like any murder mystery, she has secrets of her own. It's very convenient that the majority of the clues found just happen to be found by her and therefore become tainted with her fingerprints. However, Bolas's smile is a great distraction.
"
I don't know what is in that girl but it seems like she always knows exactly what to do with her body, her movements, her voice, and her expressions.
— Junior Patrick Mahoney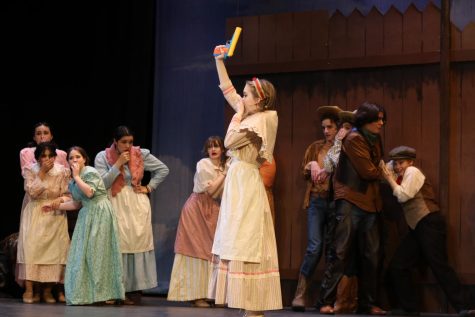 Bolas looks fondly upon her character and in our interview, shared that same peppiness when discussing her favorite scene. "After Kansasland [a number within "Robbin' Hood"], when Niki is flailing around a gun like a crazy woman. Common sense would say you don't do that after finding a gun but of course she's just like 'Hey! I found this, I'm just gonna flail it all around.' That's probably one of my best scenes."
"I don't know what is in that girl but it seems like she always knows exactly what to do with her body, her movements, her voice, and her expressions," Mahoney comments. "She has it down. That girl knows exactly how to play that part and she knows exactly how to sing the songs."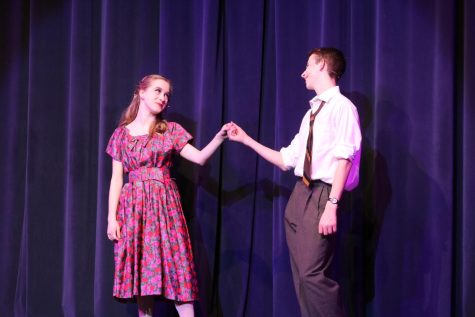 The two share multiple songs together and their voices match wonderfully. "Tough Act to Follow" showcases  their musings over being in a musical as a couple and is Bolas' personal favorite to perform. It's every bit the big romantic number you dream of. Mahoney, however, prefers "Coffee Shop Nights," a song where Cioffi laments about his loneliness near the beginnings of the musical. 
"I just love working with Patrick and being able to see how he is," Bolas said. "He is very, very skilled and it's amazing how many shows he's been in and how he can just get in a scene. If something falls off, he's good with improv. Not everyone is quick to the broom but he's really good at trying to solve a scene."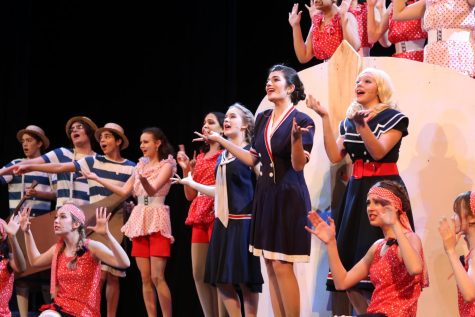 There's a moment in the final version of "In The Same Boat" where Shapic, Bolas, and Essebaggers sing together in what I dub the "Holy Trinity." Vickers plucked them from God's chorus of heavenly angels and put them front and center on the Troy High School stage. Aside from "The Woman's Dead," this might be next on my favorite numbers from the show.
Stage Manager Eden Wilson explains their role in the musical: "There are so many different people saying so many different things and it all funnels down to me. All of them make the noise and then I have to make it happen." 
Wilson also plays the role of the stage manager for the production of "Robbin' Hood" within "Curtains." Wilson is a natural, obviously, and it feels like they aren't playing a role at all. 
Teasing, Wilson shares: "There's a little bit of acting at one part." Of course, to know what they mean, you'll have to watch the show. 
Behind the scenes, Essebaggers is also the Head of Hair & Makeup for "Curtains." On her creative process, she shares: "Once I see it, I already kinda know who I want it for. I definitely have a few characters that I know straight from the get-go what I want them to have." 
"
There's a lot of great people in TTE. This year especially, I think we have one of the best communities that we've had since we've started. It's just gotten better and better.
— Eden Wilson
Mahoney describes how different parts of the show come together: "There's a lot that goes into a show: hair, makeup, set, actors, delivery and crew. There's so many people working to fulfill the same goal. I think the most important element is the vision, the direction, who's steering the show to where it needs to be." 
Vickers is the mad genius behind the show. He walks on stage during rehearsals and moves people around as they say their lines. 
"Seeing him after school where he can be unfiltered is what makes it more fun and memorable," Bolas remarks. 
Wilson shares their most unforgettable moments: "There's a lot of great people in TTE. This year especially, I think we have one of the best communities that we've had since we've started. It's just gotten better and better. The people have gotten more amazing, more talented, more cohesive and that's probably the most memorable part."
"It's very rare to have a show that is so forgiving to its actors," Mahoney comments. "With characters that are so fun to play, that's very rare. Our cast has a lot of fun with it and you can tell." 
Essebaggers correctly describes the show as having the "Broadway-classic theater vibe." It's a musical for the ages. Humorous and well worth the watch.
Tickets can be purchased here.