On July 7th, a band of protestors marched the streets of Paris, waving the traditional red, white and blue of the French flag in one hand and a piece of cardboard in the other. Police cars littered the scene as a group of students from Troy High School watched from the sidelines.
"I heard the protesters before I saw them," rising senior Ishanya Saini said. Saini had been visiting Paris for the Global Leadership Summit alongside her fellow classmates when the protest occurred. "They were shouting, 'L'euro! L'euro! À la poubelle.' I was able to translate this as "get rid of the Euro" since "à la poubelle" means "to/in the trash," but I didn't understand if they just wanted to get rid of euros, the currency, and revert to francs, or if they wanted to get rid of Euro, the European Union. " 
The protestors were part of the Frexit movement, a term that Saini would later see plastered on signs and protest banners as the march continued. The Frexit movement began largely in 2017 after the French presidential elections as a result of the Brexit movement, which led to Britain's withdrawal from the European Union in 2016. Although the students were only privy to the Paris protest, similar demonstrations occurred across France in multiple cities. 
According to NPR, the failure of other European countries to join Britain in leaving the European Union was due to the "political chaos" that ensued after Britain's departure. "Instead of becoming a harbinger of the  [European Union]'s demise," NPR reports. "The United Kingdom descended into political chaos and became a cautionary tale for other [European Union]  countries."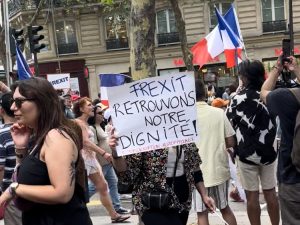 Much of the Frexit movement derives from the desire to separate France from the immigration policies of the European Union. In an interview with The New Indian, an anonymous protestor detailed many of the reasons for withdrawal from the European Union: "Arresting and repatriating migrants is prohibited by EU regulations, enforced by the European Court of Justice, affecting not only France but all Western countries. Globalist leaders like Macron, Sarkozy, Chirac, and Mitterrand have governed France, impacting the nation's economy. The switch from francs to euros has also led to increased prices, such as the notable example of the baguette, where the exchange rate has significantly altered the cost of living. "
The protest came as a surprise to Saini. "As I understood it, Britain's economy suffered greatly after Brexit, so I was surprised to see such invigorated support for Frexit." 
However, tensions had been building in Paris after an act of police brutality resulted in the murder of an Algerian teenager on June 27.  40,000 members of Paris' police force had been deployed to halt the protests against police brutality, resulting in over 3,000 arrests as per Reuters reports.
In response to worries over encountering a protest while on her trip, Saini shared, "I wasn't concerned because it's almost like when we watch world news from back home, it seems like something so distant that it could never affect us. And yet, I saw it happen right before me."