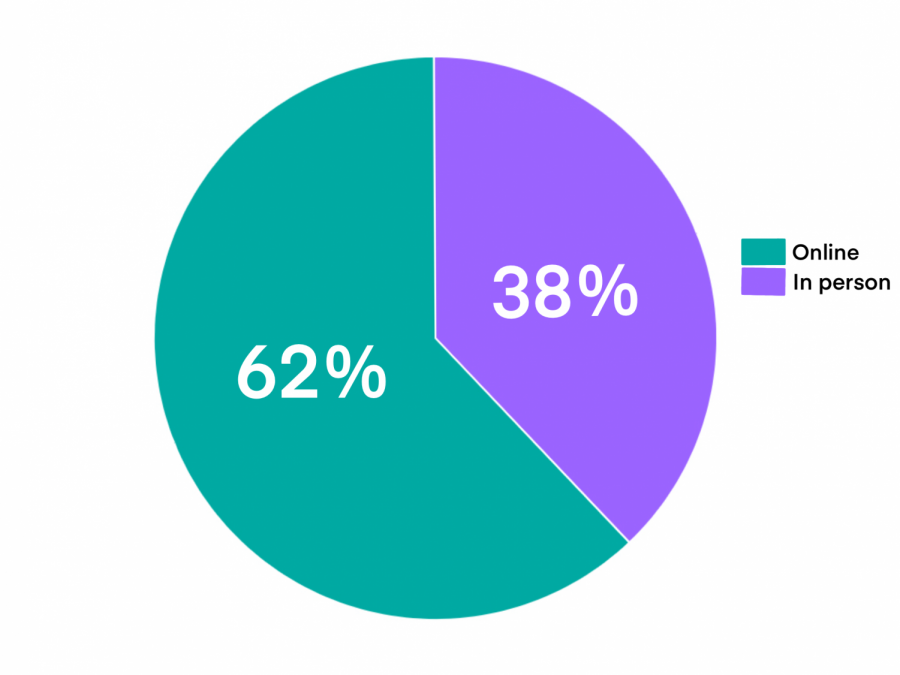 Online vs. In-School Learning
October 25, 2020
Online vs. In-School Learning
Personally, at this time I think that the best way for us to learn is virtual. One of the many reasons I say this is because I have an autoimmune disease (Type one diabetes), which makes my risk of getting the COVID-19 virus higher because of my weakened immune system.  
Another reason I say that virtual learning is the best option is because the entire time the COVID-19 virus has been in the United States, it's been drilled into us to stay out of large gatherings and social distance from others. 
In my opinion going back to school is really going against the guidelines that we've placed to keep ourselves safe and prevent the spread of the COVID-19 virus.
Everyone that choses online school has different reasoning for this.
In an interview with USN & world report, Kathy Sievering, a recently retired school district worker, agreed with my opinion on the safety of children with health risks. 
"If the child has a health condition that increases the risk of COVID, remote learning reduces the possibility of COVID-19 exposure," Sievering said.
This is one of the many concerns that parents and students have.  Another concern is a student contracting the COVID-19 virus at school and bringing it home to an immunocompromised family member. 
In another aspect unrelated to health concerns, some people wonder if school will be the same upon returning. 
 The districts' Return to Learn roadmap states that desks will be socially distanced and students will not be able to touch or interact with the same materials. All science labs will be performed individually, and playing wind instruments will certainly be affected.
According to data from Education Week  74% of the 100 biggest U.S. school districts are opting to go remote-only this fall. 
When it comes to Troy High School it looks as if a majority could agree with me, with 38% percent of Troy High students choosing in school and 62% choosing online.
Even though everyone can have a different circumstance for choosing in school or online, it comes down to how much of a risk it is for you and your loved ones to take. 
Leave a Comment
Online vs. In-School Learning
In March of 2020, the COVID-19 pandemic hit the United States, after many cases across the globe. As soon as the first few cases hit in Michigan schools began to shut down. Many students thought they would only be out for a few weeks. Those few weeks turned into a few months, and now having to start virtual learning. While some students liked the idea of online school, many find it rather challenging.
"I feel like I learn more in person than online, it's just hard to pay attention and learn online," said sophomore Emily VanHorne. She seemed very set on her opinion of liking in person learning more than online learning. 
Personally I prefer in-person learning for multiple reasons. At home, it's harder to find the motivation to do and complete work, and the virtual learning environment can be distracting compared to an in school environment. At home you are surrounded by your stuff, and objects that could possibly be distracting.
In an article posted by EdSource, Student Perspectives: the pros and cons of distance learning, about the perspectives of students with online and in-school learning, 13 of the 16 students interviewed said they prefer in-school learning.  One additional reason was  the fact that it is harder to ask questions and get one on one help from your teacher. Sometimes teachers can't get back to you in time, or answer your question how you need it to be answered.
Students are also not getting some of the social skills that are helpful in life, and it's hard to continuously pay attention to a screen and learn the content of your class. Some students have issues focusing in general, so trying to focus in class with the distractions of being home makes it even harder to try and pay attention.
Even though many schools are not going back at full capacity, like Troy high, being back in school will be good for students' social life, and their grades if they are struggling. As more students go back to hybrid learning, it will be interesting to see how the student opinions of online school and in person school change.
Leave a Comment